Muhammad Sougatul Islam, PhD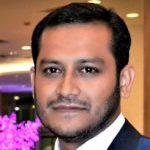 Dr. Islam is expert in the area of molecular genetics and computational systems biology. He worked on ovarian cancer in renowned Royal Infirmary of Edinburgh and Roslin Institute. He also studied fungal infection mechanism by a combination of molecular genetics and functional genomic approach. He achieved an MRes in Biomedical Sciences from the College of Medicine and Veterinary Medicine, University of Edinburgh. MRes work was focused on establishing a stem cell marker GPR49 in ovarian cell line isolated from patients.
With a postgraduate degree he continued his journey while taking a different route through starting a PhD on infection mechanism of fungus in Halpin Laboratory, College of Life Sciences at the University of Exeter in England. He did  PhD postdoc in the area of bacterial surface synthetic enzyme expression at Wellcome Trust Centre for Biocatalysis, University of Exeter. Dr Islam came back to Bangladesh and joined Centre or Vaccine Sciences (CVS) in ICDDR'B. He played a role is setting DNA sequencing facilities in the centre and established a link between CVS and sequencing facilities at BSMMU to work in future. The exposure in ICCDR'B added a different dimension of research in public health in his expertise.
Dr. Islam is very much interested to contribute in developing novel platform for biomedical research in Bangladesh as well as supporting industry to locally manufacture and commercialize novel biotech products.
He is currently consultant at UK-based company ImmunoSys, and a Biotech Entrepreneur.