Mohammad Monowar Hossain, MBA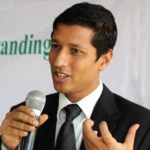 Mr. Monowar is a seasoned strategist in the area of business planning, business development, systems development and commercial management. He is the country Director of ASUTEX, a Spanish multinational company and also overseeing the Bangladesh Chapter of a German-based multinational financial organization, DS-Concept. He holds a Bachelor degree in Textile Engineering and a Masters in Business Administration from IBA, University of Dhaka.
Mr. Monowar is the co-Founder of Talent Hub, a platform of young University Graduates for grooming them as future leaders of Bangladesh.  He has earned a reputation for his outstanding interpersonal skills and as an influential motivational speaker. He has contributed to building a Cricket Academy which has produced highly skilled players for National Team.  Cricket is the only Sports where Bangladesh has excelled internationally. He loves to travel and do adventures. He is passionate about mountain climbing, surfing and scuba diving.