Professor Muhammad Akram Hossain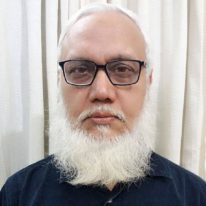 Professor  Hossain is one of the renowned clinician researchers in Bangladesh with over 25 years of experience. Recently has retired as Head, Department of Microbiology and Mycology at NIPSOM (National Institute of Preventive & Social Medicine). Before moving to NIPSOM, Professor Hossain was Head of Microbiology Department, Mymensingh Medical College, where he also served as a member of IRB.
He was a Commonwealth Medical Fellow at CPHL, London and JICA fellow at Osaka University, Japan. He obtained FRCP from Edinburgh. He served as Microbiologist under Ministry of health KSA, traveled and attended Seminar, symposiums in Different countries including UK, France, Japan, KSA, Thailand and India.
Professor  Hossain has co-authored over 100 peer reviewed publications. His area of research includes microbiology, epidemiology and medical education. Professor Hossain has authored three medical books on Immunology, Parasitology and Assessment of Microbiology. He supervised over 30 students in MPhil Microbiology under University of Dhaka, and co-supervised two PhD students from Sapporo University, Japan.
As an experienced organizer, Dr. Hossain was one the founding members of Sandhani a charitable organization run by Medical students.